The 8th Samsung-cup Quarter-final
Cho Chikun has reached the semi-finals of the 8th Samsung Cup. It makes me wonder whether he is back on his way to the top.
The fact alone that he is in the semi-finals is a bit remarkable, because he has never done very well in international tournaments. He has only won one, the 4th Fujitsu Cup in 1991, and that victory was not a perfect one: his opponent Qian Yuping for the final could not play because he was too ill.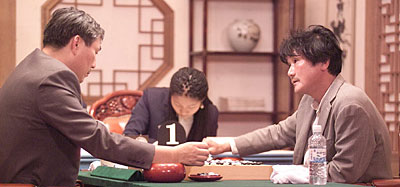 Analyzing after the game.

What probably pleases his fans most, is that in the quarter-final he finally won another game against Cho Hun-hyeon. That has not happened since 1981! This must have been a very significant victory for Chikun. See below.

Cho, Pak, Hu and Xie
The semi-finals will be in November 2003, 4,5 and 7, best of three matches. The other players are quite young: Hu Yaoyu (21), Xie He (19) and Pak Yeong-hun (18). Cho is 47. What a contrast!
Hu Yaoyu (7d) is Cho's opponent in the semi-finals. Hu learned to play Weiqi at age 6 and reached professional shodan at age 11. The same age as when Cho became pro, so we have two former child prodigees in this mini-match... Hu has yet to win his first title, but he is certainly very strong. Recently he beat five top players in a row in the 4th Nongshim cup, before finally losing to Yi Ch'ang-ho. Among his scalps were Yoda, the current Meijin, Kato, the current Honinbo, Kobayashi, the current Gosei and Cho Hun-hyeon. Not a young man to underestimate. A formidable opponent.
2003-10-17]