Cho Chikun wins the 8th Samsung Cup Final
What is it going to be? Revolution or Resurrection? That was the question asked on www.cyberoro.com, one of the more popular Korean Baduk sites. Probably they meant (I cannot read the rest) that if the "Young Prince" Pak wins, it will be the final breakthrough of a new generation of Korean players. On the other hand, if Cho wins, it will be the come back of the champion of an older generation.
There is an 8 hour time difference between Korea and the Netherlands. The match started at 01:00 am my time; too late to start watching it. weiqi.tom.com was supposed to have a life feed of the game. By the time I had finished my first meeting the following morning it was 11:00 am. The game was indeed there, and it had already finished. Cho had been white again and he played in the same style as game 2. The opening started out with exactly the same fuseki as Pak had played against Xie He in the second game of the semi-finals. Cho was the first to divert from that game, but I think it gave him even more of a psychological advantage than he already had. In any case, around move 180 Pak blundered and Cho cut off a number of stones; when black resigned, white was already clearly ahead on the board.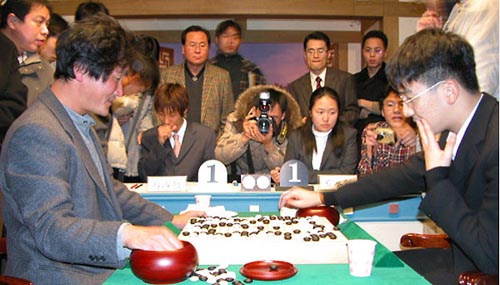 Game 3: Victory.
This is Cho's 66th title and only his second international one. His first one was the Fujitsu in 1991, but he won by default because his opponent was too ill too play. After that, he only once entered in the finals of an international cup before: that was in the 4th Tong yang Securities Cup. That final, best of 5, he lost 0-3 to Yi C'hang-ho.
The first price is a nice 200 million won, something like 150,000 euro. [2003-12-11]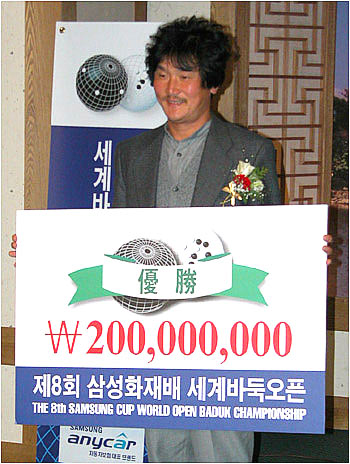 A pro must earn a living though ...