Games of Cho Chikun against Cho Hun-hyeon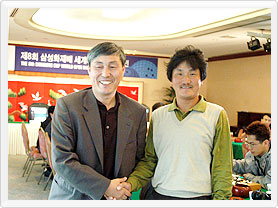 Cho Hun-hyeon is Korea's greatest player of all time. He has won more than 150 titles, and in one year held all the 9 titles (1980). Tragically, he got a lot less publicity for that achievement in the Korean press than Cho Chikun for his first (Meijin) title the same year. See this column.
He was also the first player to win all (then) three international titles (Ing, Fujitsu and Tong Yang). In recent years he lost most of his titles to his pupil Yi Ch'ang-ho.
Born 1953-03-10. He became 1d in Korea in 1962 and 2d in 1963 but in October that year he moved to Japan to study as a live-in pupil under Segoe Kensaku, becoming an insei again but now 4k under the Japanese system. He made it to 5 dan before returning to Korea in 1972. He became the first 9 dan in Korea in 1982. A translation of a book about his career can be found on gobase.
The list below is not yet complete. There is at least one more game (an Oza preliminary of 1969 that Cho Chikun won).
| Nr. | Date | Event & Result | Mvs |
| --- | --- | --- | --- |
| 1 | 1965-10-23 | 1965 Insei Tournament (B, W+R) | 182 |
| 2 | 1969-06-11 | Oteai (B, B+) | ? |
| 3 | 1980-12-31 | Games to mark first return visit to Korea by Cho Chikun, sponsored by Dong-A Newspaper, Game 1 of 2 (B, B+3.5) | 196 |
| 4 | 1981-01-02 | Special Commemorative Games, Game 2 of 2 (W, W+5.5) | 254 |
| 5 | 1992-08-20 | 4th TV Asia Championship, Quarter-final (W, B+R) | 189 |
| 6 | 1996-06-27 | 1st LG Cup, Round 2 (W, B+1.5) | 185 |
| 7 | 1997-06-29 | 2nd LG Cup, Round 2 (W, B+R) | 205 |
| 8 | 2000-04-10 | 13th Fujitsu Cup, Round 2 (W, B+R) | 141 |
| 9 | 2000-06-15 | 5th LG Cup, Round 2 (W, B+R) | 131 |
| 10 | 2001-06-14 | 6th LG Cup, Round 2 (W, B+R) | 161 |
| 11 | 2002-05-02 | 7th LG Cup, Round 2 (B, W+R) | 246 |
| 12 | 2003-10-16 | 8th Samsung Cup, Quarter-final (B, B+R) | 207 |