Am I Mr Ooijer in Hikaru no Go?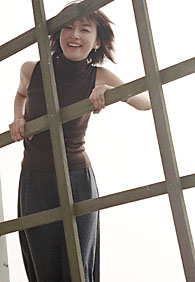 1999-09-09: Umezawa tries to climb up the Leiden windmill. First 3 pictures copyright Harry van der Krogt.
Umezawa Yukari and Inori Yoko visited the Netherlands
On a very special day some years ago we had a dinner with Umezawa Yukari. It was 1999-09-09. She was touring Europe together with Inori Yoko, and they were going to stay in the Netherlands for a couple of days. Luck had that the weather was very nice for the time of the year. They were having tremendous fun. And we were having fun too, they were so nice and played go with everybody who wanted a game. That day they visited Leiden, Harry and Ger invited them for traditional Dutch pancakes for lunch, took them on a touristic trip through the town, and by the time the others and myself joined them for dinner Umezawa was already nick-named Miss Sunshine.
Dinner in La Cloche
We went to a nice restaurant (La Cloche) where the owner made us a special dinner with a beautiful selection of wines.
1999-09-09: Our dinner in La Cloche. Gerald is sitting next to Umezawa, he played many games with her when he lived in Japan and she was a child. Ger is a Japanese interpreter and Filip also speaks enough Japanese to join the conversation. So that left Harry and me out of most of what was said :-)
If you're an Umezawa fan, or Japanese, or both, go there and ask the owner for a seat in the room upstairs because that's where we were. He might even remember us. It's worth it (and make a reservation).
Playing Go
Anyway, what is so special about the date is that it was exactly 40 years ago that the Dutch Go Association was founded. So it was a very special date for us and I told them that we were actually very happy and proud that their visit coincided with this anniversary we were celebrating. Later that evening at the Leiden Go Club Umezawa and Inori gave me a fan. They wrote on it: Dear Jan-san, 1999-09-09, in remembrance of this very special day: 40 years of Dutch Go.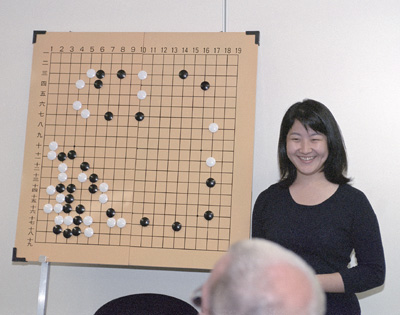 1999-09-09: At the Leiden Go Club. Inori Yoko explains what happened in her game of 8 days earlier against Kobayashi Izumi. This one she lost, but she doesn't seem to mind. One year later she will succeed and win the Women's Honinbo Title.
At the Go club Umezawa played a simul and Inori showed us her most recent game: the challenger's final of the Women's Honinbo tournament. The room was packed. Even the members of the local chess club that played in the adjacent room came over to have a look and see what was happening.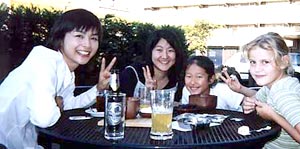 1999-09-11: Girls having fun on the terrace outside the Go centre. Third from the left is Kei Shinada (then living in Belgium), now an insei in Japan. Quite likely the photographer and beer drinker is Jan van der Steen.
Celebration
That was on a Thursday and the Saturday thereafter they joined us again for the official celebration of the 40th anniversary of the Dutch Go Association, in the European Go Centre in Amstelveen. Again they played many more games -- especially against children. Harry took a lot of pictures but unfortunately he has none of them digitized yet so I have to use some of the pictures on Umezawa's site.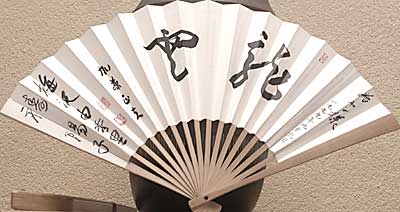 1999-09-09: the fan.
The next Sunday they came back to Leiden and played some more games. On her site Umezawa actually has two pictures of that day (gallery -- pictures 47 and 48), but I'm not on them. I got beaten terribly by her in a four stone handicap game as far as I remember. Inori was, at the same time, playing some serious two stone handicap games against our strongest club players and that wasn't easy for her.