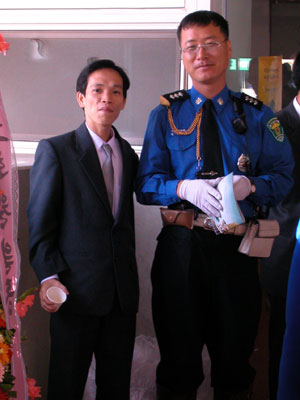 Tran Chi Thanh, the Vietnamese international chess master and baduk player, poses with our friendly police escort of the day
2003-09-29

The tournament

It looks like the IWABC is the first event that is held in the Convention Center. It not completely finished yet, they are still working on it. Yesterday there were problems with the toilets. Today it is better.

The tournament is a six round Swiss tournament, after which the top four will play semi-finals and a final. With 58 players at least 5 points are needed to get you into the final. Of course we hope that at least one non asian player will reach the last top four.
Round 1
The buses left 8:30, round 1 started 10:00 sharp. Before the start Seo Neung-uk (9 dan pro) and Nam Ch'i-hyeong (1 dan pro), the arbiters, gave some directions on how to use the clock. An interesting clock that can handle (and count) byoyomi in the proper way, much better than the Ing timers, but unfortunately not very robust.
Emil Nijhuis had a tough game and finally lost against Dmitro Bogatskiy from the Ukrain. As Matthew MacFadyen had predicted, Vesa Laatikanen from Finland can be an unexpectedly difficult opponent. He won his game quite convincingly against Canadian Suhkjoo Yoon. His reading was just a lot better.
One unexpected result was that Diana Koszegi lost against Cesar Sanchez Munoz from Spain. In the opening she played two weak moves in a row that gave her opponent in effect two free moves. That was enough. All other games ended as expected.
Round 2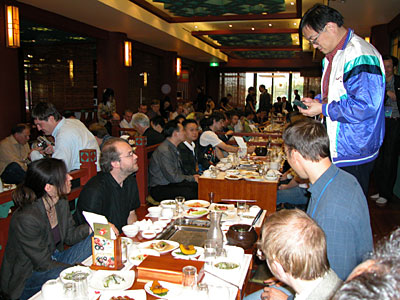 Dinner Korean style with everybody sitting on the floor.
There were absolutely no surprise pairing in round two, except the fact that Emil had to play against Laurent Heiser from Luxembourg (a 6 dan who had won in the previous round against Tran Chi Thanh). Emil won by 2.5 points.
While the playing of the second round came to an end, inside the stadium the football match between Oman and Vietnam started. With just a couple of spectators, it was evidently not important or interesting at all. After this game, it would be Korea against Nepal. That was expected to be sold out, thus we did not have dinner in the stadium's convention center but instead went to a nearby Korean restaurant. There we were greeted by the mayor of South Incheon and we learned that he was the major force behind the sponsorship. I'd bet there will be a IWABC next year again.
If you want to know more about the results and games, they should be at the official IWABC site.