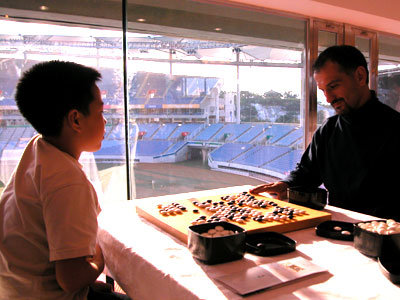 We actually play with a view inside the football stadium
2003-09-28

Police escort

The championship itself is in the Munhak Worldcup Convention Center, which is inside the Munhak Worldcup Stadium. That is about half an hour by bus from the hotel. Both yesterday and today we went in two buses, escorted by police. It is just a little bit more safe this way, and such an attention to detail does not fail to impress everybody. A VIP treatment.
Friendship games
We left around ten, and the rest of the morning and the afternoon were filled with friendly games against each other and Korean players. In the afternoon it was more structured with a friendship match where every player of the IWABC had a Korean opponent. We, the officials were left out of that system, maybe they thought we did not like to play? But many more people really also wanted to play against western players, so for instance in my case, I played 6 games in total in the afternoon.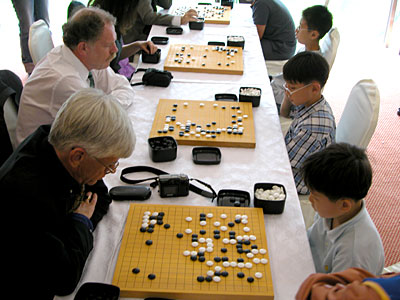 Guest officials Martin Stiassny and Simon Goss facing some strong Korean kids.
Strong kids
These kids are really strong, it is really interesting -- or should I say unbelievable... In the morning there was this small girl, she looked not older than 8, who crushed the Italian 3 dan. In the morning I played the boy with the glasses that Martin is playing in the picture and I had no chance.
I did better in the afternoon. First I played this young boy. He was too polite and did not invade my huge territory. Although I had made a mistake in one opening and had to give him a substantial corner for some influence, the difference was still to much. The scary thing was that he explained to me what I should have played: a very complex sequence that I had never seen before. These kids study so hard.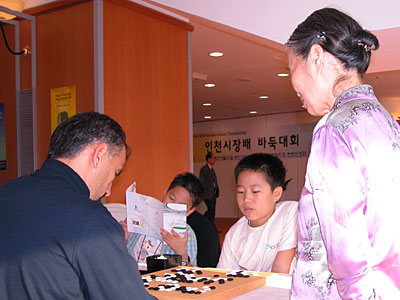 Grandma looking at the game of her grandson. That's not me in the picture, it is the Turkish player.
Then a woman came and said: "ah you are really strong, can I play you?" She was the kid's grandma. She wanted to play with a three stone handicap. I won the first, so she wanted a revenge. She won the second game, so a third game was needed to settle the matter. Then two more games with other Korean players. I think we could have gone on forever, if the opening ceremony didn't have to start at 18:00 sharp. I had a satisfactory score of 4-2 in the afternoon.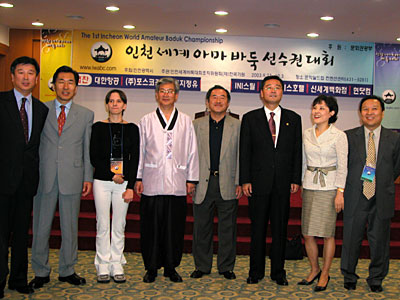 End of opening ceremony: Diana is trying very hard to suppress a giggle.
Left to right: a member of congress, the mayor of Incheon, Diana Koszegi (only female participant), the organiser, unknown, the mayor of congresses, unknown and Seo Neung-wook (9 dan professional)
Opening Ceremony
It was an impressive ceremony with several hundreds of guests. All important guests were announced in person. Our role as guest officials was to sit on one of the front tables, to be important and to bring out an occasional toast. For the rest there were many speaches, some of them we had already heard before. They were printed beforehand too, so let's just skip them. Dinner afterwards. Good, but not very different from the lunches.
We left around 20:00 back to the hotel. That will be the usual routine for the coming days. Outside there was a show going on, it seemed sold out.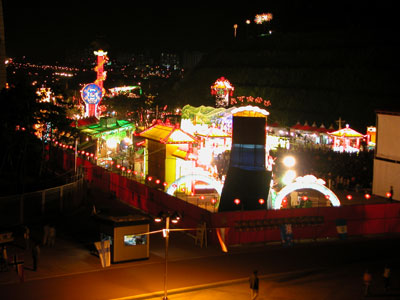 Chinese Fairground with theater at night.
Another police escort
In the hotel, on the 7th floor where I am staying, there were several policemen standing and sitting around, basically doing nothing. I did not have a clue what they were doing there. The next day I heard that three players of the Nepal football team had disappeared and that it was feared that they would try to stay in Korea as ilegal immigrants. So maybe there is another reason too for our police escorts?