Games of Cho Chikun against O Meien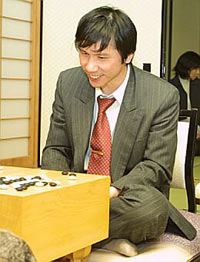 2002-12-12: winning the Oza.
O Meien was born in 1961 in Tapei. He is the older brother of Tei Meiko and Tei Meiki. In 1975 he moved to Japan and became an insei; two years later he became pro. He reached 9 dan in 1992.
He has won the Honinbo title twice: in 2000 by beating Cho Sonjin, and in 2001 against Cho U. In 2002 he lost that title to Kato Masao.
In the end of 2002 he took away the last major title Cho Chikun held: the Oza. It was a dramatic match where in game 2 Cho lost on time in a won position, see this detailed report. In the end of 2003 it was his turn to lose the Oza to Cho U.
O Meien sometimes plays the fuseki in a very unique and unorthodox style. One example is 2001-02-22 below.
| Nr. | Date | Event & Result | Mvs |
| --- | --- | --- | --- |
| 1 | 1986-03-20 | 11th Meijin League (W, W+0.5) | 330 |
| 2 | 1986-04-10 | 41st Honinbo League (B, B+3.5) | 220 |
| 3 | 1987-10-01 | 12th Kisei, Strongest Players Championship, Quarter-final (W, W+R) | 196 |
| 4 | 1987/1988 | 20th Hayago Championship, Round 1 (?, +) | ? |
| 5 | 1989-00-00 | 37th NHK Cup, Round 1 (?, -) | |
| 6 | 1989-02-02 | 14th Gosei, Round 2 (B, B+R) | 121 |
| 7 | 1994-09-08 | 33rd Judan, Losers' Section, Round 2 (B, B+R) | 133 |
| 8 | 1994-12-01 | 20th Meijin League (W, W+R) | 138 |
| 9 | 1996-04-04 | 21st Meijin League (W, W+3.5) | 272 |
| 10 | 1996-08-31 | 16th NEC Cup, Round 1 (W, W+3.5) | 268 |
| 11 | 1997-03-27 | 45th Oza, Round 1 (W, B+R) | 75 |
| 12 | 1998-05-14 | 24th Tengen, Quarter-final (W, W+R) | 114 |
| 13 | 1998-05-28 | 37th Judan, Winners' Section, Round 2 (B, B+R) | 185 |
| 14 | 1999-10-28 | 55th Honinbo League (W, W+R) | 146 |
| 15 | 2001-02-22 | 27th Tengen, Round 1 (W, B+4.5) | 281 |
| 16 | 2001-05-03 | 26th Meijin League (B, B+R) | 157 |
| 17 | 2001-09-16 | 34th Hayago Championship, Semi-final (B, B+R) | |
| 18 | 2001-12-06 | 27th Meijin League (B, B+R) | 147 |
| 19 | 2002-08-12 | 11th Ryusei League, Semi-final (W, B+6.5) | 280 |
| 20 | 2002-10-10 | 50th Oza Final, Game 1 (W, W+R) | 228 |
| 21 | 2002-10-31 | 50th Oza Final, Game 2 (B, W+T) | 144 |
| 22 | 2002-11-21 | 50th Oza Final, Game 3 (W, B+0.5) | 276 |
| 23 | 2002-11-28 | 50th Oza Final, Game 4 (B, B+R) | 181 |
| 24 | 2002-12-12 | 50th Oza Final, Game 5 (B, W+R) | 174 |
| 25 | 2003-01-30 | 28th Meijin League (W, W+R) | 160 |
| 26 | 2003-03-06 | 58th Honinbo League (W, B+R) | 149 |
| 27 | 2003-06-05 | 28th Kisei League B (W, W+R) | 152 |
| 28 | 2003-08-14 | 42nd Judan League, Winners' Section Round 2 (B, B+3.5) | 236 |
| 29 | 2003-11-22 | 23rd NEC Cup, Round 2 (W, W+1.5) | 268 |
| 30 | 2004-05-06 | 29th Meijin League (W, B+R) | 99 |
| 31 | 2005-03-14 | 14th Ryusei, E Group Final (W, W+0.5) | 266 |
| 32 | 2006-01-19 | 31st Gosei League, Round 2 (W, W+7.5) | |
| 33 | 2006-02-02 | 31st Kisei Preliminary Group 3, Round 1 (W, W+R) | 188 |
| 34 | 2007-08-30 | 33rd meijin Preliminary Group 3, Round 1 (W, W+R) | 246 |