Games of Cho Chikun against Kobayashi Koichi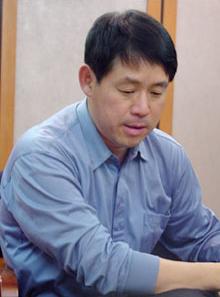 Kobayashi Koichi was Cho Chikun's major rival. Born on 1952-09-10, he became pro in 1967 and reached 9 dan in 1979. He won 54 titles. The major achievements were:
From 1984-1986, 3 consecutive Judan titles.
From 1986 to 1993, Kisei for 8 consecutive years.
From 1988 to 1994, Meijin for 7 consecutive years.
From 1988 to 1993, Gosei for 6 consecutive years.
Tengen in 1977 (his first title), 1986, 1998-1999.
10th Fujitsu Cup in 1997.
He has won all the major titles except the Honinbo title. He was the Honinbo challenger four times, but each time was beaten by Cho (1982, 1990-1992) in the match.
The following list of games is complete (based on a list that Martin Müller once faxed me).
| Nr. | Date | Event & Result | Mvs |
| --- | --- | --- | --- |
| 1 | 1966-05-15 | 1966 Insei Tournament (W, B+14.5) | 111 |
| 2 | 1968-08-14 | 17th Nihon Ki-in Championship, 1st Preliminary (B, W+10.5) | 166 |
| 3 | 1970-07-29 | unknown (W, B+R) | |
| 4 | 1972-06-20 | 28th Honinbo, 2nd Preliminary (B, W+R) | 164 |
| 5 | 1972-07-24 | 4th Shin'ei Final (B, W+R) | 178 |
| 6 | 1972-11-01 | 16th Prime Minister's Cup Final (W, B+R) | 227 |
| 7 | 1973-08-26 | 21st Nihon Ki-in Championship, Round 1 (W, W+1.5) | 212 |
| 8 | 1974-08-19 | 6th Shin'ei Final (B, B+4.5) | 261 |
| 9 | 1974-12-23 | 7th Hayago Championship, Round 2 (W, W+7.5) | |
| 10 | 1975-05-15 | 19th Prime Minister's Cup, Round 3 (W, B+R) | 217 |
| 11 | 1975-05-29 | Oteai (B, B+R) | |
| 12 | 1975-07-12 | 7th Shin'ei, Semi-final (W, B+R) | |
| 13 | 1976-02-19 | 1st Gosei League (B, W+R) | 116 |
| 14 | 1976-09-09 | 20th Prime Minister's Cup, Semi-final (B, W+2.5) | 219 |
| 15 | 1977-04-01 | 1st Kisei Accession Ceremony (W, B+R) | 165 |
| 16 | 1977-07-12 | 2nd Shinjin-O Final, Game 1 (B, W+R) | 130 |
| 17 | 1977-07-20 | 2nd Shinjin-O Final, Game 2 (W, B+R) | 151 |
| 18 | 1977-09-00 | Three-game Rivals Match sponsored by Kido, Game 1 (B, B+0.5) | 268 |
| 19 | 1977-10-00 | Three-game Rivals Match sponsored by Kido, Game 2 (W, B+R) | 113 |
| 20 | 1977-11-00 | Three-game Rivals Match sponsored by Kido, Game 3 (B, B+0.5) | 235 |
| 21 | 1978-10-05 | 4th Gosei, Preliminaries (W, W+6.5) | |
| 22 | 1979-08-25 | 2nd JAA Cup, Round 1 (B, W+2.5) | 275 |
| 23 | 1980-01-11 | 4th Kisei Eve Party (B, W+9.5) | 238 |
| 24 | 1980-02-28 | 35th Honinbo League (B, B+R) | 215 |
| 25 | 1980-03-06 | 5th Meijin League (B, W+R) | 208 |
| 26 | 1980-09-25 | 19th Judan (-, Loss by forfeit) | |
| 27 | 1981-10-19 | 6th Kisei, Strongest Players' Quarter-final (W, B+0.5) | 221 |
| 28 | 1982-05-24 | Shusai Cup, Final (B, B+2.5) | 234 |
| 29 | 1982-05-26 | 37th Honinbo Final, Game 1 (B, W+R) | 126 |
| 30 | 1982-05-31 | 7th Gosei, Challengers' Final, Game 1 (W, W+2.5) | 233 |
| 31 | 1982-06-03 | 37th Honinbo Final, Game 2 (W, W+3.5) | 267 |
| 32 | 1982-06-10 | 7th Gosei, Challengers' Final, Game 2 (B, B+6.5) | 227 |
| 33 | 1982-06-16 | 37th Honinbo Final, Game 3 (B, W+4.5) | 227 |
| 34 | 1982-06-30 | 37th Honinbo Final, Game 4 (W, W+11.5) | 267 |
| 35 | 1982-07-08 | 37th Honinbo Final, Game 5 (B, B+4.5) | 212 |
| 36 | 1982-07-21 | 37th Honinbo Final, Game 6 (W, W+R) | 152 |
| 37 | 1982-11-13 | 2nd NEC Cup, Round 2 (B, B+6.5) | 262 |
| 38 | 1984-01-16 | 22nd Judan, Losers' Section Final (W, B+R) | 153 |
| 39 | 1984-04-12 | 39th Honinbo League (B, B+5.5) | 245 |
| 40 | 1984-10-08 | 7th Kakusei League (B, B+R) | 233 |
| 41 | 1985-03-09 | 4th NEC Cup Final (B, B+0.5) | 260 |
| 42 | 1985-09-11 | 10th Meijin Final, Game 1 (W, B+5.5) | 281 |
| 43 | 1985-09-25 | 10th Meijin Final, Game 2 (B, B+R) | 229 |
| 44 | 1985-10-02 | 10th Meijin Final, Game 3 (W, B+R) | 147 |
| 45 | 1985-10-16 | 10th Meijin Final, Game 4 (B, W+R) | 186 |
| 46 | 1985-10-20 | 11th Tengen, Challengers' Final (B, W+R) | 242 |
| 47 | 1985-10-23 | 10th Meijin Final, Game 5 (W, W+2.5) | 189 |
| 48 | 1985-11-06 | 10th Meijin Final, Game 6 (B, B+2.5) | 197 |
| 49 | 1985-11-20 | 10th Meijin Final, Game 7 (W, B+R) | 111 |
| 50 | 1986-01-16 | 10th Kisei Final, Game 1 (B, W+2.5) | 216 |
| 51 | 1986-01-29 | 10th Kisei Final, Game 2 (W, W+3.5) | 238 |
| 52 | 1986-02-05 | 10th Kisei Final, Game 3 (B, B+1.5) | 251 |
| 53 | 1986-02-19 | 10th Kisei Final, Game 4 (W, B+2.5) | 265 |
| 54 | 1986-02-23 | 18th Hayago Championship Final, Game 1 (B, W+2.5) | 281 |
| 55 | 1986-02-23 | 41st Honinbo League (W, W+0.5) | 196 |
| 56 | 1986-02-26 | 10th Kisei Final, Game 5 (B, W+R) | 186 |
| 57 | 1986-03-09 | 18th Hayago Championship Final, Game 2 (W, W+3.5) | 258 |
| 58 | 1986-03-12 | 10th Kisei Final, Game 6 (W, B+R) | 241 |
| 59 | 1986-03-23 | 18th Hayago Championship Final, Game 3 (W, W+R) | 194 |
| 60 | 1987-03-08 | 19th Hayago Championship Final (W, W+R) | 188 |
| 61 | 1987-03-19 | 42nd Honinbo League (B, W+R) | 174 |
| 62 | 1987-08-20 | 12th Meijin League (W, B+R) | 175 |
| 63 | 1987-11-12 | 43rd Honinbo League (B, B+7.5) | 230 |
| 64 | 1987-11-19 | 13th Tengen Final, Game 1 (B, W+2.5) | 232 |
| 65 | 1987-11-27 | 13th Tengen Final, Game 2 (W, B+1.5) | 246 |
| 66 | 1987-12-14 | 13th Tengen Final, Game 3 (B, B+R) | 127 |
| 67 | 1987-12-23 | 13th Tengen Final, Game 4 (W, W+R) | 162 |
| 68 | 1987-12-28 | 13th Tengen Final, Game 5 (W, W+0.5) | 230 |
| 69 | 1988-01-21 | 13th Meijin League (W, B+R) | 87 |
| 70 | 1989-03-30 | 44th Honinbo League (B, W+R) | 158 |
| 71 | 1990-05-11 | 45th Honinbo Final, Game 1 (W, W+R) | 160 |
| 72 | 1990-05-24 | 29th Judan, Winners' Section, Round 1 (W, W+2.5) | 242 |
| 73 | 1990-05-28 | 45th Honinbo Final, Game 2 (B, W+R) | 176 |
| 74 | 1990-06-07 | 45th Honinbo Final, Game 3 (W, B+0.5) | 210 |
| 75 | 1990-06-19 | 45th Honinbo Final, Game 4 (B, W+R) | 98 |
| 76 | 1990-07-09 | 45th Honinbo Final, Game 5 (W, W+7.5) | 269 |
| 77 | 1990-07-18 | 45th Honinbo Final, Game 6 (B, B+6.5) | 221 |
| 78 | 1990-07-25 | 45th Honinbo Final, Game 7 (W, W+3.5) | 230 |
| 79 | 1991-05-10 | 46th Honinbo Final, Game 1 (B, W+R) | 148 |
| 80 | 1991-05-27 | 46th Honinbo Final, Game 2 (W, B+4.5) | 212 |
| 81 | 1991-06-07 | 46th Honinbo Final, Game 3 (B, B+10.5) | 234 |
| 82 | 1991-06-22 | 24th Hayago Championship, Round 1 (B, B+1.5) | 310 |
| 83 | 1991-06-27 | 46th Honinbo Final, Game 4 (W, W+5.5) | 292 |
| 84 | 1991-07-03 | 46th Honinbo Final, Game 5 (B, B+3.5) | 237 |
| 85 | 1991-07-17 | 46th Honinbo Final, Game 6 (W, W+R) | 212 |
| 86 | 1992-01-23 | 30th Judan, Losers' Section, Final (B, W+R) | 218 |
| 87 | 1992-05-15 | 47th Honinbo Final, Game 1 (W, B+R) | 179 |
| 88 | 1992-05-27 | 47th Honinbo Final, Game 2 (B, W+R) | 158 |
| 89 | 1992-06-09 | 47th Honinbo Final, Game 3 (W, B+R) | 145 |
| 90 | 1992-06-17 | 47th Honinbo Final, Game 4 (B, B+8.5) | 271 |
| 91 | 1992-06-25 | 47th Honinbo Final, Game 5 (W, W+R) | 132 |
| 92 | 1992-07-08 | 47th Honinbo Final, Game 6 (B, B+R) | 189 |
| 93 | 1992-07-22 | 47th Honinbo Final, Game 7 (B, B+7.5) | 217 |
| 94 | 1994-01-12 | 18th Kisei Final, Game 1 (W, B+R) | 169 |
| 95 | 1994-01-26 | 18th Kisei Final, Game 2 (B, B+6.5) | 241 |
| 96 | 1994-02-02 | 18th Kisei Final, Game 3 (W, W+3.5) | 211 |
| 97 | 1994-02-16 | 18th Kisei Final, Game 4 (B, B+R) | 167 |
| 98 | 1994-02-23 | 18th Kisei Final, Game 5 (W, B+3.5) | 234 |
| 99 | 1994-03-09 | 18th Kisei Final, Game 6 (B, B+6.5) | 250 |
| 100 | 1994-03-31 | 16th Kakusei Final (W, B+2.5) | 281 |
| 101 | 1995-03-04 | 14th NEC Cup Final (B, W+R) | 164 |
| 102 | 1995-03-13 | 17th Kakusei, Semi-final (B, B+11.5) | 273 |
| 103 | 1995-10-16 | 21st Tengen, Challengers' Final (W, B+R) | 137 |
| 104 | 1995-11-13 | 34th Judan, Losers' Section. Round 2 (W, B+R) | 135 |
| 105 | 1995-12-07 | 21st Meijin League (B, W+1.5) | 220 |
| 106 | 1996-02-04 | 43rd NHK Cup, Round 3 (B, B+R) | 169 |
| 107 | 1996-10-17 | 35th Judan, Winners' Section Semi-final (B, W+0.5) | 289 |
| 108 | 1996-12-16 | 19th Kakusei, Semi-final (B, W+8.5) | 256 |
| 109 | 1997-04-07 | 6th Ryusei, A group final (B, W+4.5) | 232 |
| 110 | 1997-09-10 | 22nd Meijin Final, Game 1 (W, B+R) | 197 |
| 111 | 1997-09-24 | 22nd Meijin Final, Game 2 (B, B+3.5) | 277 |
| 112 | 1997-10-01 | 22nd Meijin Final, Game 3 (W, B+R) | 149 |
| 113 | 1997-10-15 | 22nd Meijin Final, Game 4 (B, B+R) | 155 |
| 114 | 1997-10-22 | 22nd Meijin Final, Game 5 (W, W+3.5) | 250 |
| 115 | 1997-11-05 | 22nd Meijin Final, Game 6 (B, B+3.5) | 232 |
| 116 | 1998-09-17 | 37th Judan, Winners' Section Semi-final (W, B+R) | 135 |
| 117 | 1999-01-13 | 23rd Kisei Final, Game 1 (B, B+R) | 203 |
| 118 | 1999-01-27 | 23rd Kisei Final, Game 2 (W, W+R) | 208 |
| 119 | 1999-02-03 | 23rd Kisei Final, Game 3 (B, W+R) | 186 |
| 120 | 1999-02-17 | 23rd Kisei Final, Game 4 (W, W+1.5) | 287 |
| 121 | 1999-02-24 | 23rd Kisei Final, Game 5 (B, W+R) | 102 |
| 122 | 1999-03-10 | 23rd Kisei Final, Game 6 (W, W+5.5) | 272 |
| 123 | 1999-05-17 | 8th Ryusei, A group final (B, W+R) | 160 |
| 124 | 2001-02-05 | 48th NHK Cup, Semi-final (W, W+R) | 178 |
| 125 | 2001-03-15 | 26th Gosei League, Quarter-final (W, B+0.5) | 220 |
| 126 | 2001-09-30 | 34th Hayago Championship Final (W, W+6.5) | 262 |
| 127 | 2001-10-04 | 40th Judan, Losers' Section, Round 3 (W, B+R) | 155 |
| 128 | 2002-06-24 | 22nd NEC Cup, Round 1 (W, W+4.5) | 312 |
| 129 | 2002-07-14 | 35th Hayago Championship, Round 2 (W, W+R) | ? |
| 130 | 2003-04-03 | 58th Honinbo League (B, B+5.5) | 291 |
| 131 | 2003-07-24 | 10th Agon-Kiriyama Cup, Round 1 (B, B+5.5) | incompl. |
| 132 | 2004-03-21 | 51st NHK Cup Final (W, B+3.5) | 253 |