Games of Cho Chikun against Hane Naoki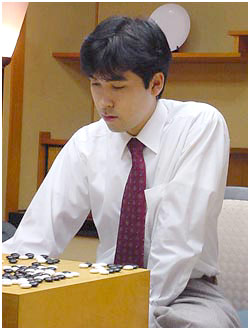 Hane Naoki (born 1976) became professional in 1991. Son of Hane Yasumasa.
He is one of the strongest player of the young generation. In 2001 he played in the Kisei, Meijin and Honinbo Leagues simultaneously. From 2001-2003, he won the Tengen title. In 2002 he also won the 43rd Okan title and came second in the 49th NHK Cup.
He set several records (quickest promotion to 9 dan, highest number of wins in one year) that were since beaten by Cho U.
Late 2003 he won the playoff for Kisei challenger against Cho Chikun. So he will play against Yamashita Keigo early 2004 for the Kisei title, his first "big" title match.
| Nr. | Date | Event & Result | Mvs |
| --- | --- | --- | --- |
| 1 | 1998-11-23 | 37th Judan, Losers' Section, Round 3 (B, W+2.5) | 263 |
| 2 | 1999-05-06 | 38th Judan, Winners' Section, Round 1 (B, B+R) | 195 |
| 3 | 2000-12-07 | 56th Honinbo League, Game 10 (W, W+1.5) | 256 |
| 4 | 2001-05-13 | 34th Hayago Championship, Round 1 (B, B+5.5) | |
| 5 | 2001-05-28 | 10th Ryusei League, Round 1 (B, B+2.5) | 308 |
| 6 | 2001-06-07 | 26th Meijin League (B, B+R) | 183 |
| 7 | 2001-07-19 | 26th Kisei, League, Group B, game 6 (W, W+R) | 214 |
| 8 | 2001-12-13 | 57th Honinbo League (W, W+R) | 202 |
| 9 | 2001-12-17 | 15th Fujitsu Cup, Preliminary (B, B+R) | |
| 10 | 2002-02-28 | 27th Gosei League, Round 2 (B, B+R) | 149 |
| 11 | 2002-06-13 | 41st Judan League, Round 1 (B, B+R) | 135 |
| 12 | 2003-06-28 | 1st JAL Super Hayago, Round 2 (W, B+R) | 207 |
| 13 | 2003-11-13 | 28th Kisei, Challengers' playoff (W, B+2.5) | 257 |
| 14 | 2004-09-23 | 30th Meijin Preliminary, Final (?, -) | |
| 15 | 2005-09-01 | 31st Meijin Preliminary Final Group 1, Round 1 (W, B+R) | |
| 16 | 2006-01-26 | 32nd Tengen League, Round 2 (W, B+5.5) | 240 |
| 17 | 2007-02-18 | 54th NHK Cup, Quarter-final (B, B+R) | 155 |
| 18 | 2007-10-04 | 32nd Kisei League Group B (W, W+5.5) | |