Games of Cho Chikun against Fujisawa Hideyuki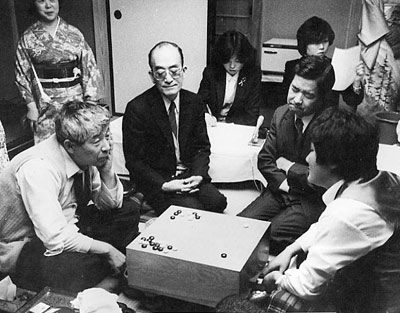 Fukisawa won the first game of the 1983 Kisei title match. Watching are Takagawa and Ohira.
Fujisawa Hideyuki, born in 1925, retired as a professional in 1998. The reading Fujisawa Shuko is more common, but against his wishes.
Famous as a man of extremes. There are many stories, such as that he was drinking 9 months of the year and would get sober just in time to win another Kisei match. In any case, he is regarded as one of the most sublime players of the century. He won titles when it really mattered, such as the first Meijin in 1962. He won the first Kisei and did hang on to that title for six terms.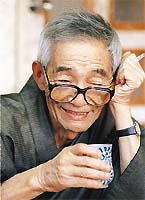 Fujisawa in 2003.
In 1999 he left the Nihon Ki-in after a dispute, but returned in the summer of 2003 by which time the Nihon Ki-in had new reform-minded directors such as Kato Masao -- note he can still not be found on the website of the Nihon Ki-in.
He is also well known for his many trips to China and Korea, for his support for Chinese Go and for his study groups. Some information about his earlier years is here.
Cho Chikun's first match against Fujisawa was the Asahi Top Eight, a one off tournament that Cho won in 1976. But he was also the one to end Fujisawa's period of Kisei title holder. In that match Cho came back, miraculously, after losing the first three games.
| Nr. | Date | Event & Result | Mvs |
| --- | --- | --- | --- |
| 1 | 1974-05-09 | 11th Pro Best Ten, Losers' Round 2 (B, B+R) | 115 |
| 2 | 1975-03-13 | 12th Pro Best Ten, Round 3 (B, B+1.5) | 240 |
| 3 | 1975-06-00 | Game sponsored by Kido (B, W+R) | 240 |
| 4 | 1976-01-22 | Asahi Top Eight Players Final, Game 1 (W, W+R) | 184 |
| 5 | 1976-01-29 | Asahi Top Eight Players Final, Game 2 (B, W+R) | 154 |
| 6 | 1976-02-05 | Asahi Top Eight Players Final, Game 3 (B, B+2.5) | 256 |
| 7 | 1978-07-13 | 4th Tengen, Round 2 (B, W+1.5) | 246 |
| 8 | 1979-02-04 | 26th NHK Cup, Round 3 (W, W+R) | 142 |
| 9 | 1979-09-08 | 12th Hayago Championship, Round 1 (W, W+R) | 180 |
| 10 | 1980-05-01 | 6th Tengen, Round 1 (B, B+R) | 85 |
| 11 | 1980/1981 | 3rd Kakusei, League (?, +) | ? |
| 12 | 1980/1981 | 3rd Kakusei, Playoff knockout (?, +) | ? |
| 13 | 1981-12-21 | 4th Kakusei, League (B, B+R) | 207 |
| 14 | 1982-10-00 | 5th Kakusei, League (B, B+R) | 171 |
| 15 | 1983-01-13 | 7th Kisei Final, Game 1 (W, B+4.5) | 265 |
| 16 | 1983-01-26 | 7th Kisei Final, Game 2 (B, W+R) | 166 |
| 17 | 1983-02-02 | 7th Kisei Final, Game 3 (W, B+3.5) | 187 |
| 18 | 1983-02-16 | 7th Kisei Final, Game 4 (B, B+R) | 219 |
| 19 | 1983-02-23 | 7th Kisei Final, Game 5 (W, W+R) | 172 |
| 20 | 1983-03-09 | 7th Kisei Final, Game 6 (B, B+5.5) | 293 |
| 21 | 1983-03-16 | 7th Kisei Final, Game 7 (W, W+1.5) | 268 |
| 22 | 1987-00-00 | 35th NHK Cup, Round 1 (?, +) | |
| 23 | 1987-08-05 | 12th Meijin League (B, B+R) | 157 |
| 24 | 1988-06-09 | 13th Meijin League (B, W+4.5) | 269 |
| 25 | 1989-07-03 | 14th Meijin League (B, B+R) | 189 |
| 26 | 1990-03-01 | 15th Meijin League (W, W+R) | 174 |
| 27 | 1990-07-28 | 23rd Hayago Championship, Round 2 (B, B+8.5) | 292 |
| 28 | 1991-07-11 | 16th Meijin League (B, B+R) | 237 |
| 29 | 1991-09-12 | 16th Kisei, Strongest Players' Quarter-Final (B, B+R) | 195 |
| 30 | 1991-09-26 | 14th Kakusei, Round 2 (B, B+R) | 255 |
| 31 | 1991-12-19 | 17th Meijin League (W, B+R) | 151 |
| 32 | 1993-08-12 | 16th Kakusei, Round 2 (B, B+3.5) | 256 |
| 33 | 1996-12-02 | 44th NHK Cup, Round 2 (W, W+R) | 120 |