Games of Cho Chikun against Cho U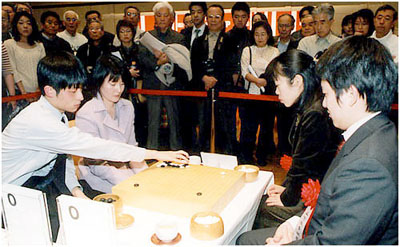 The Ricoh 2004 Pair Go Cup, round 2. Left Cho U and Okada Yumiko, right Kobayashi Izumi and Yamashita Keigo.
Cho U was born in Taiwan in 1980. Moved to Japan in 1990 and became a pupil of Rin Kaiho (1990). Challenged for the Honinbo title in 2001 when he was 6 dan: the youngest challenger ever.
Won the Honinbo title in 2003 and became 9d because of that. This gives him the record for the fastest promotion to 9-dan (9 years and three months). He set a Japanese record for most wins in a year (70) in 2002, and also for most games without a loss in the Oteai: 37 games including one jigo (which beats Cho Chikun's record of 1973 - 36 games including 2 jigo's and one no result). Also won the Oza in 2003 and the NHK Cup in 2002.
Recently announced his engagement to Kobayashi Izumi.
| Nr. | Date | Event & Result | Mvs |
| --- | --- | --- | --- |
| 1 | 2001-01-18 | 56th Honinbo League, Game 14 (W, W+R) | 168 |
| 2 | 2001-09-27 | 57th Honinbo League (W, B+R) | 141 |
| 3 | 2002-09-21 | 22nd NEC Cup, Round 2 (W, B+R) | 141 |
| 4 | 2002-10-13 | 9th Agon-Kiriyama Cup Final (W, W+R) | 216 |
| 5 | 2002-10-28 | 27th Kisei League B (W, W+R) | 78 |
| 6 | 2002-12-02 | 58th Honinbo League, Round 3 (B, W+R) | 98 |
| 7 | 2003-02-23 | 50th NHK Cup, Quarter-final (W, W+4.5) | 266 |
| 8 | 2003-03-20 | 28th Meijin League (B, W+R) | 244 |
| 9 | 2003-09-04 | 28th Kisei League B (W, B+R) | 193 |
| 10 | 2003-09-25 | 42nd Judan League, Winners' Section Semi-final (W, B+0.5) | 284 |
| 11 | 2003-10-02 | 29th Gosei, A preliminary, Round 2 (?, -) | ? |
| 12 | 2004-07-01 | 29th Kisei League B (B, W+R) | 130 |
| 13 | 2004-08-05 | 29th Meijin League (W, B+R) | 127 |
| 14 | 2005-07-25 | 14th Ryusei League, Semi-final (W, B+R) | 213 |
| 15 | 2006-10-15 | 1st Daiwa Cup, Round 2 (W, B+1.5) | 283 |
| 16 | 2007-10-20 | 14th Agon-Kiriyama Cup, Final (W, B+6.5) | 129 |