Games of Cho Chikun against Jimmy Cha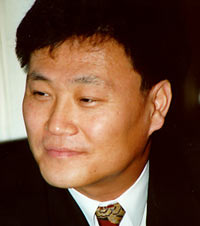 Jimmy Cha was born Ch'a Min-su, in 1951. He was the top baduk player in Seoul University and national amateur champion. He was given a 4 dan ranking in 1984, partly because of his efforts in spreading go abroad. He transfered to the USA as a citizen in 1975, deviding his time between playing poker and managing (he is said to come from a wealthy family and to have inherited several businesses).
He is famous for reaching the quarter-finals of the second and third Fujitsu Cup, which earned him the nick name "eternal Mr. quarter-finalist". In an interview he said there was not much difference between playing poker and go. He was, or is still is, one of the better poker players in the world.
| Nr. | Date | Event & Result | Mvs |
| --- | --- | --- | --- |
| 1 | 1990-04-09 | 3rd Fujitsu Cup, Round 2 (B, W+4.5) | 250 |