Introduction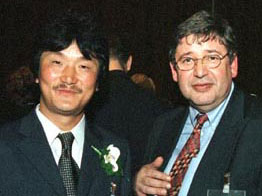 Cho together with the author at the opening ceremony of the 2000 Meijin Title match in Amsterdam.
To celebrate the event that Cho Chikun for the second time in his career owned the three major titles (Kisei, Meijin, Honinbo) at the same time, I started collecting title match games by Cho. This 'hobby' grew out into a number of pages dedicated to the art of Cho Chikun. The aim was to find at least 1.000 professional games by Cho. We have reached that milestone in the beginning of 2001, so the next aim is to have them all :-)
Navigation
On the pages that form the "Cho Chikun Internet Book" the tophand menu has been replaced by a breadcrumb. I know, it is a bit old fashioned, but at least you know where you are and how to get back. The right hand side sidebar will always contain the most relevant links for further navigation.
Basically this "Cho Chikun Internet Book" site consists of three parts. First there is the small biography of Cho Chikun, which will give you an overview of his professional career. Secondly, there is the database of games, that can be approached through a lot of different index pages, either by year, by opponent or by tournament. The third part consists of various stories & reports, and some other odds and ends.