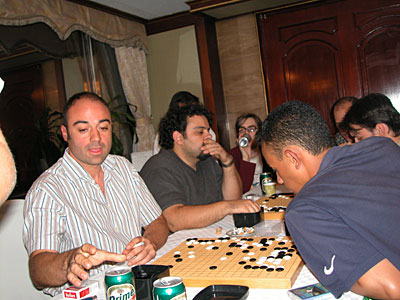 Friday evening party. Marocco versus Madagascar, and behind them Spain against Romania.
2003-10-04

Party

Friday evening, back again in the hotel, it was crowded in the "Emerald Room" on the top floor where a lot of the players gathered. This time, there was plenty of free beer and snacks. From what I heard the next morning, it was a very late night for some of them. For me it was a short night too.
Going home
Martin and I took a taxi back to the airport, we did not want to wait for the bus. My suitcase, only 12,5 kilo when I came in, was now 22,5 kilo because of the books I bought. Just below the limit of 23. Martin's was even worse: 37 kilo. He had to take at least 7 kilo as hand luggage, otherwise they wouldn't let his suitcase in. But after he had repacked everything was Okay and they did not even charge him for the extra weight.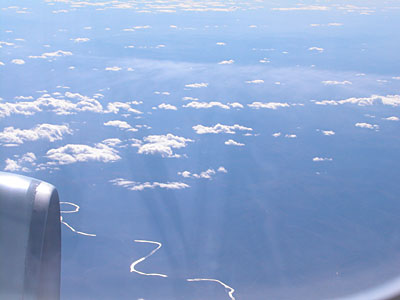 Eleven kilometers high somewhere over China.
Martin went to Frankfurt and I via London to Amsterdam. It was something like 18 hours travel for me. A lot, but not much compared to many others. Alex from Madagascar has about two days to go (via Paris).
With a very clear sky, I could see a lot of the landscapes of China (north of Beijing), Siberia (Omsk, Irkutsk). In London, it rained and it was cold. Only then I realised how good the weather had been in Korea all the time: around 25 degree C. during the day, and only one day with rain.
My daughter and her boyfriend picked me up at Schiphol airport, and that was it. The framed print that was our fare-well present at the closing ceremony survived the journey. But not the ceramics that I had bought: two of the three pieces were damaged, even though they were extremely well packed.