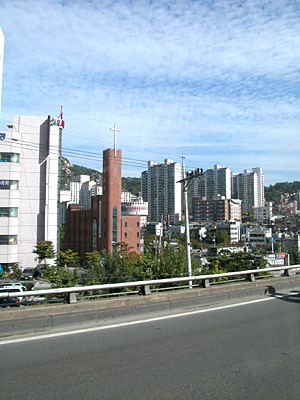 Everyone seems to live in these kinds of flats. Taken from the bus to Seoul
2003-10-02

Traffic jams

Thursday. A long day of sight seeing in Seoul, but the traffic jams were such that I did not have any time to make a report in the evening. The next day (friday) is a public holiday, and everybody seemed to be rushing out of the city to do nice things in a long weekend. It took us about two hours to get from Insadong to the Hankon Kiwon. And another two hours to get us back to Incheon.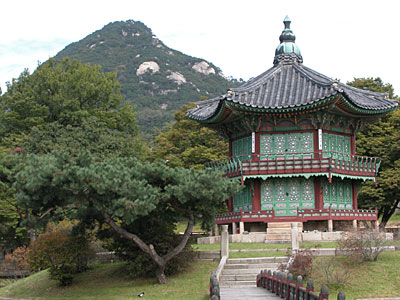 Inside the Gyeongbokgung Palace complex
The road from Incheon to Seoul is about 60 kilometers. Along side that road, almost without any interruption, there are the same kind of appartment flats. I did not know that before I came here, but in this part of the country Korea just hasn't got enough land. In the Incheon area large parts of land are won from the sea, in the same way as we do in the Netherlands. Dykes. Polders.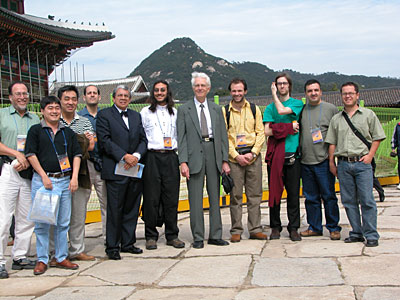 Richard Bozulich amidst the South American players.
In the morning we went to the Gyeongbokgung Palace, then to Insadong, an area with a lot of antique shops, and finally we went to the Hankok Ki-won (the professional baduk association).
In Insadong I bought some nice but expensive ceramics. In the Baduk Institute everybody went crazy buying books and boards and stones. I "only" bought four Baduk Yearbooks.
The previous day, an elderly gentleman appeared in the stadium. He turned out to be Richard Bozulich, the founder of Ishi press. He was the first to publish real good English language Go books. Once we knew who he was, everybody wanted to have his picture taken with this famous person.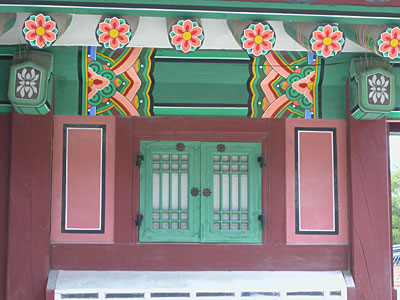 Detail of one of the palace ornaments